Elevate your vegan foods with this Cashew Cream Cheese – a simple, creamy, and dairy-free delight. Perfect for your bagels or as a veggie dip.
Are you on the hunt for a scrumptious, dairy-free spread that goes perfectly on your morning toast or bagel? Look no further! Our Cashew Cream Cheese is not only simple to prepare but also incredibly versatile. It's the ultimate vegan substitute for classic cream cheese and a staple in our kitchen. In this post, we'll share the recipe for this delightful cream cheese, explore its benefits, and even introduce you to a flavorful variation – Onion and Herbs Vegan Cream Cheese.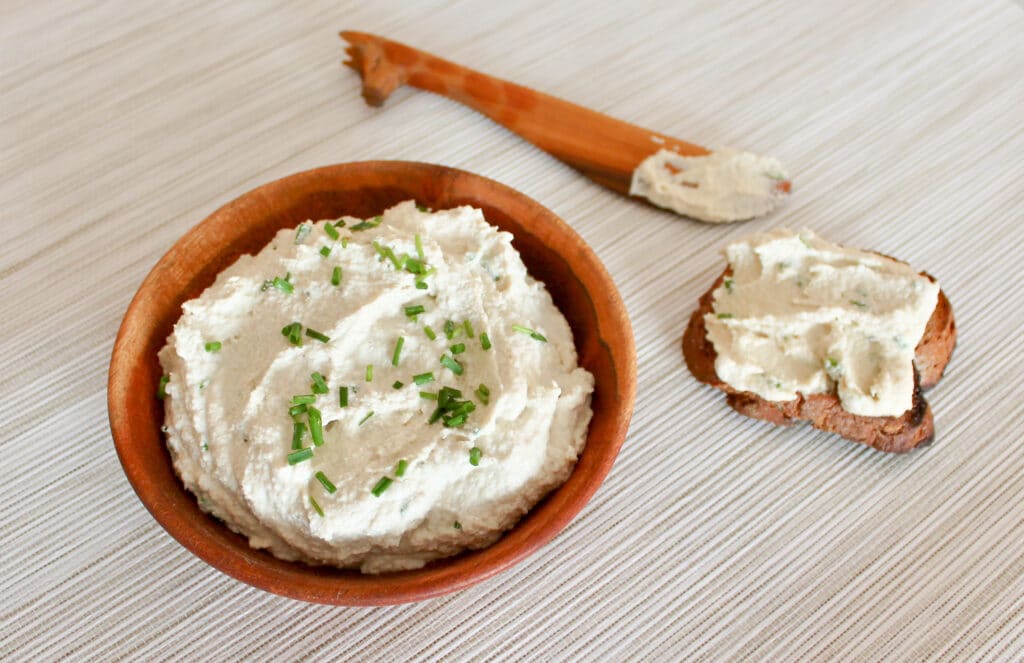 This Vegan cream cheese recipe is one of those foods you would find from my fridge every week 😉 It's so easy to make and works with so many different foods.
You can make vegan cream cheese without Nutritional yeast but it does give a more "cheesy" taste. And it is full of vitamins and minerals, making it a perfect addition to a healthy plant-based diet. You can find it in most health food stores if your local shop doesn't have it. Or you can order it online.
Benefits of Cashew Cream Cheese
Dairy-Free Delight: If you're lactose intolerant or following a vegan diet, this cream cheese is the perfect dairy-free alternative.
Heart-Healthy: Cashews are rich in healthy fats that can benefit your heart health.
Nutritional Yeast Boost: The addition of nutritional yeast not only provides that "cheesy" flavor but also adds a dose of vitamins and minerals to your diet.
Versatile: Use it as a spread on your morning toast or bagel, or as a dip for fresh veggies. It's incredibly versatile.
Onion and Herbs Vegan Cream Cheese
Looking to add a twist to your Cashew Cream Cheese? Try our Onion and Herbs variation. Just add these herbs for an extra burst of flavor:
1 teaspoon dried chives
1 teaspoon dried parsley
1 teaspoon dried dill
1 teaspoon onion powder
A pinch of black pepper
Blend these herbs with your cashew cream cheese, and you'll have a delightful herbed spread that pairs perfectly with your favorite bread or crackers.
Whether you're a vegan veteran or just starting your plant-based journey, Cashew Cream Cheese is a must-have in your kitchen. It's easy to make, delicious, and versatile. Give it a try and elevate your breakfast and snack game with Tasty Vegan Life's Cashew Cream Cheese.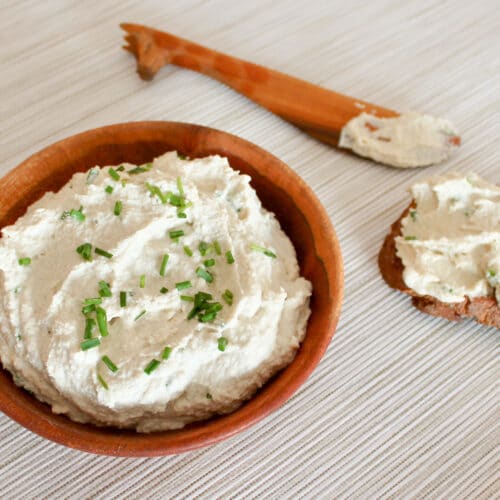 Cashew Cream Cheese
This simple and creamy recipe for cashew cream cheese is perfect as everyday spread on bread or bagel or easy vegan dip for veggies. Great vegan and dairy-free substitute for classic cream cheese.
Ingredients
200

g

raw cashews

2

tbsp

nutritional yeast

2

tbsp

lemon juice

0,5

tsp

salt

1

garlic clove

2

tbsp

water

1

tsp

apple cider vinegar

chopped chives (optional)
Instructions
Soak the cashews in hot water for 10–15 minutes. Drain and rinse them thoroughly. Soaking the cashews make them easier to blend and you will have a more creamy texture.

Place all ingredients (except chives) into a food processor (a hand blender can be used as an alternative).

Blend the mixture until it becomes smooth. If needed, add more water.

Taste and adjust the seasoning by adding more salt or lemon juice according to your preference. Garnish with freshly chopped chives.

Let it cool in the refrigerator for at least 15 minutes before serving.