Delicious tofu scramble, simple, and the best vegan alternative to scrambled eggs. It's super easy to make, and high in protein, you won't miss your eggs after this 😉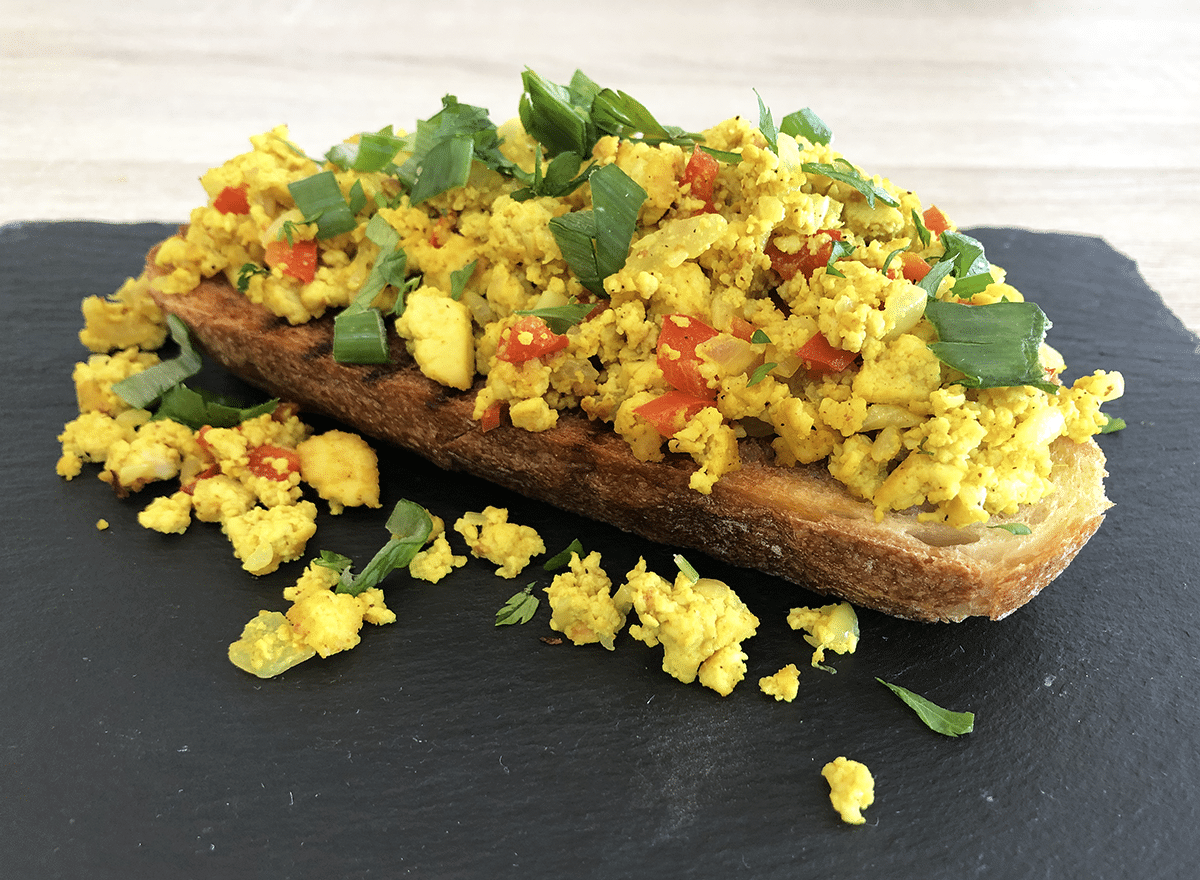 I know eggs can be one of the foods you miss after going vegan, but this tofu scramble is a real game changer! The texture is on point and if you add black salt – it will almost taste too much like a real egg.
After adding basic ingredients you can customize it as you prefer – veggies, mushrooms, you name it.
This eggless vegan version is healthier, lower in fat, cholesterol-free, and with lots of protein.
You can serve it for breakfast or brunch over a warm toast, bagel, or with salad or fruits. And it only takes 15-20 minutes to make.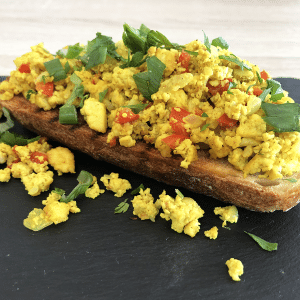 vegan tofu scramble
Delicious vegan alternative to scrambled eggs - simple tofu scramble.
Ingredients
200

g

firm tofu

1

tsp

black salt

(you can also use regular salt)

1

tbsp

nutritional yeast

½

tsp

turmeric

pinch of black pepper

¼

cup

soy milk

½

tsp

garlic

1

tsp

oil

(optional for cooking)

onion or vegetables of your choice

optional
Instructions
chop the onion or vegetables of your choice to small pieces

use your hands ( or fork ) to crumble the brick of tofu

heat a teaspoon of oil in a pan and add the tofu and all the remaining ingredients. ( If you are using veggies, onion or mushrooms, add them first and tofu after 5 minutes )

Stir and cook over medium-high heat for 5 minutes

Add soy milk and cook for another 5 minutes. Taste and add more salt if needed.

Serve the tofu scramble over toast topped with fresh parsley. Or if you like some heat I recommend some chili flakes also.
Notes
This recipe calls for black salt as also known Kala Namak. You can use regular salt instead but this salt gives that eggy smell and flavor. 
And if you want to cook oil-free, just use some water instead of oil.