Satisfy your cravings with this hearty yet low-calorie Mexican chickpea soup. Packed with wholesome ingredients, it's perfect for budget-conscious and health-conscious foodies.
Are you on the lookout for a flavorful and hearty vegan soup that won't break the bank or your calorie count? Look no further! Our Mexican-inspired chickpea Soup is the perfect addition to your recipe collection. This soup is not only a treat for your taste buds but also friendly to your wallet and waistline.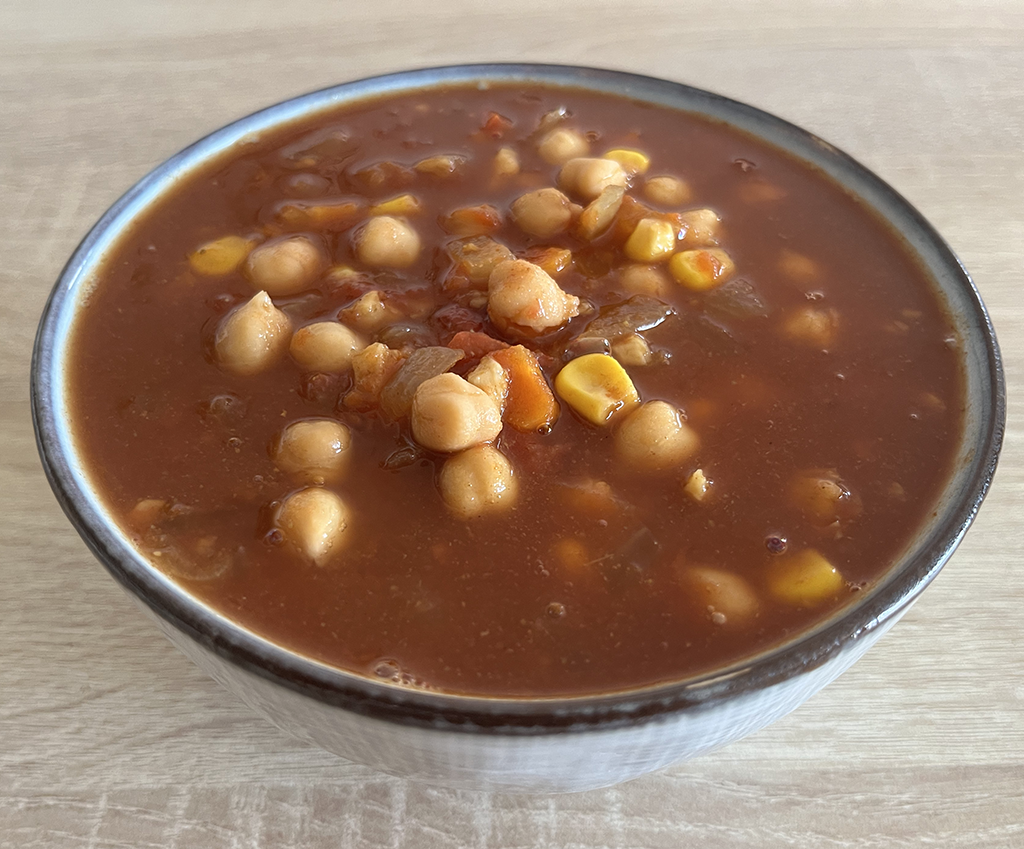 Why Mexican-Inspired Chickpea Soup?
1. Vegan Delight
This Mexican chickpea soup is entirely plant-based, making it an excellent choice for vegans and vegetarians. It's a delicious way to incorporate more plant-based meals into your diet without sacrificing taste or nutrition.
2. Low-Calorie Goodness
If you're watching your calorie intake, you'll love this soup. It's low in calories but high in flavor and nutrients, making it a fantastic option for those aiming for a balanced and healthy diet.
3. Budget-Friendly Eats
Eating on a budget? No problem! This recipe is designed to be cost-effective, using simple ingredients that won't strain your wallet. It's proof that delicious and nutritious meals can be affordable.
4. Hearty Vegetable Soup
Loaded with chickpeas, carrots, and corn, this soup is a hearty and filling option. It's perfect for those moments when you need a satisfying meal that keeps you full and energized.
5. Mexican Flair
This soup is infused with Mexican-inspired flavors, including chili powder, coriander, and cumin. The result is a warm and comforting bowl that's perfect for fall evenings or any time you're craving a taste of Mexico.
Mexican Chickpea Soup
Hearty yet low-calorie vegan Mexican Chickpea Soup. Packed with wholesome ingredients, it's perfect for budget-conscious and health-conscious foodies.
Ingredients
1/2

white onion

3-4

garlic cloves

1

carrot

1

tsp

Chili powder

adjust to your spice preference

1/2

tbsp

Coriander powder

1

tbsp

Ground cumin

2

tbsp

tomato paste

1

vegetable cube

1

tomato

chopped

1 400

g

can tomato puree

1 400

g

can water

1

cup

cooked chickpeas

about 200g

1/2

cup

corn

2

tbsp

Agave syrup

2

tbsp

Apple cider vinegar
Instructions
Start by finely chopping the onion and carrot, and mincing the garlic.

In a large pot, add a splash of water and toss in the chopped onions and carrots. Sauté over medium-high heat for 3-5 minutes until they start to soften.

Add the minced garlic and all those aromatic spices. Continue to sauté for a few more minutes until the spices blend wonderfully with the veggies.

Now, throw in the chopped tomato, canned tomatoes, tomato paste, and the vegetable cube dissolved in water. Bring the soup to a boil, then cover and let it simmer for a cozy 15 minutes.

After the 15 minutes, introduce the chickpeas, corn, agave syrup, and apple cider vinegar into the mix. Let the soup simmer for another 15 minutes over medium-high heat.

Taste and add more salt, vinegar or syrup if needed.
Serve this delightful vegan soup in your favorite bowl and savor the heartwarming flavors. Share this budget-friendly, low-calorie, and vegan-friendly recipe with friends and family, and let them discover the joys of tasty vegan living.
Pair Mexican chickpea soup with:
Tortilla Chips:
The crunch of tortilla chips perfectly complements the rich and comforting soup. Dip or crumble them into your bowl for an extra layer of texture and flavor.
Wholefood Bread:
A slice of hearty wholefood bread is an excellent choice for soaking up every last drop of this delicious soup. It's the ultimate comfort food combination.
Fresh Coriander:
For a burst of fresh, vibrant flavor, top your soup with a handful of chopped fresh coriander. Its citrusy, herbaceous notes will take your soup to the next level.